One of a Kind
View details
Inspired by the archetypal spiral motif, the Balance Collection is a body of work based in three mythic ideologies: the inherent perfection of nature, the harmony of opposing energies, and a spirit of self-inquiry.
This piece is in stock and ships immediately.
Mociun Jewelry Boxes
Indeed, good things come in small packages, but that doesn't mean the package has to be boring! Rebellious in spirit and expressive in nature, our premium luxe boxes are free of plastic and hand-painted in colorful lacquer. They are designed to complement the unusual elegance of Mociun jewelry. Read more about our journey to plastic free packaging here.
Item Details
15.67 ct. combined weight of two round Sea of Cortez pearls
1.62 ct. combined weight of two trillion cut chrome tourmalines
0.72 ct. combined weight of six baguette cut red ant hill garnets
0.35 ct. combined weight of two round brilliant cut bicolor yellow Sri Lankan sapphires
0.35 ct. combined weight of two round brilliant cut bicolor blue Sri Lankan sapphires
0.23 ct. combined weight of two triangular step cut IJ/SI2 natural white diamonds
0.11 ct. combined weight of two triangular step cut yellow Sri Lankan sapphires
0.12 ct. combined weight of two triangular step cut, blue, Sri Lankan sapphires
Twenty total stones secured in full bezel settings
Set in 18k solid yellow gold
Posts measure 11mm long and are fastened with comfort fit friction backs
Sold as a pair
We proudly design all of our jewelry in Williamsburg, Brooklyn. Each solid gold and platinum piece is made here in New York City.
Responsibility
We strive to use 100% responsibly sourced, eco-friendly or recycled gold when possible. Our precious metals are currently cast in New York City by a trusted network of partners whose practices align with our philosophy on responsible jewelry-making and guarantee nimble timelines and fair pricing.
Metals
Overview
Gold is most coveted for its aesthetic qualities and malleability. Its purity is measured in karats: one karat represents 1/24 of the whole, so 24k means 100% pure, naturally yellow gold. 24k gold is too soft for everyday wear, so for our jewelry, we recommend platinum and 14k or 18k gold, which is pure gold mixed with other metals, creating a stronger, more durable alloy. We love working with richly-colored 22k gold for jewelry that does not contain any stones.
We are happy to discuss requests for any desired materials in addition to the metals listed here.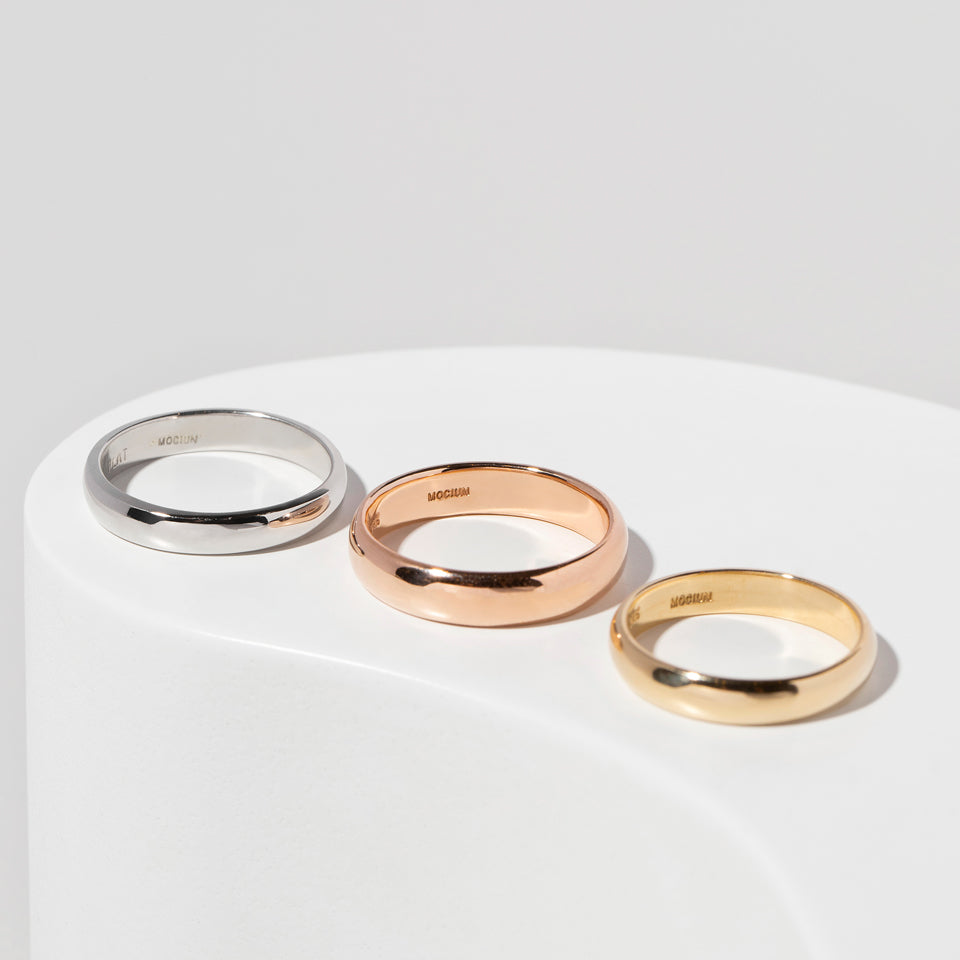 Collapsible content
Yellow Gold

Made of pure gold and alloy metals like copper and zinc, yellow gold is hypoallergenic and easy to maintain. We love using yellow gold with all gemstones and diamonds.
Rose Gold

Rose gold is made of pure gold alloyed with copper, which gives it its reddish tint (perfect for warm-colored and pink gemstones or diamonds) and adds durability. It is not a hypoallergenic metal.
White gold

White gold is an alloy of pure gold and white metals such as nickel, silver and palladium. This metal pairs best with cool-colored gems, as well as colorless to near-colorless diamonds. It is not a hypoallergenic metal and not recommended if you have a nickel sensitivity. Unless requested, we do not rhodium-plate our white gold to honor its naturally yellow undertones.
Platinum

First popularized with Edwardian engagement rings, the rare and extremely durable platinum comes at a higher cost than gold. Platinum has cool, blue undertones and is a pure element. This hypoallergenic metal can be used over white gold for those with nickel sensitivity.