Mociun x Ladurée
View details
This special piece is made to order, just for you. It is final sale. Gift wrap, international shipping, and in-store pickup are not available for this item. Items ship together directly from Ladurée via FedEx overnight on Thursday, May 11 to arrive on Friday, May 12 — just in time for Mother's Day celebrations.
Mociun Jewelry Boxes
Indeed, good things come in small packages, but that doesn't mean the package has to be boring! Rebellious in spirit and expressive in nature, our premium luxe boxes are free of plastic and hand-painted in colorful lacquer. They are designed to complement the unusual elegance of Mociun jewelry. Read more about our journey to plastic free packaging here.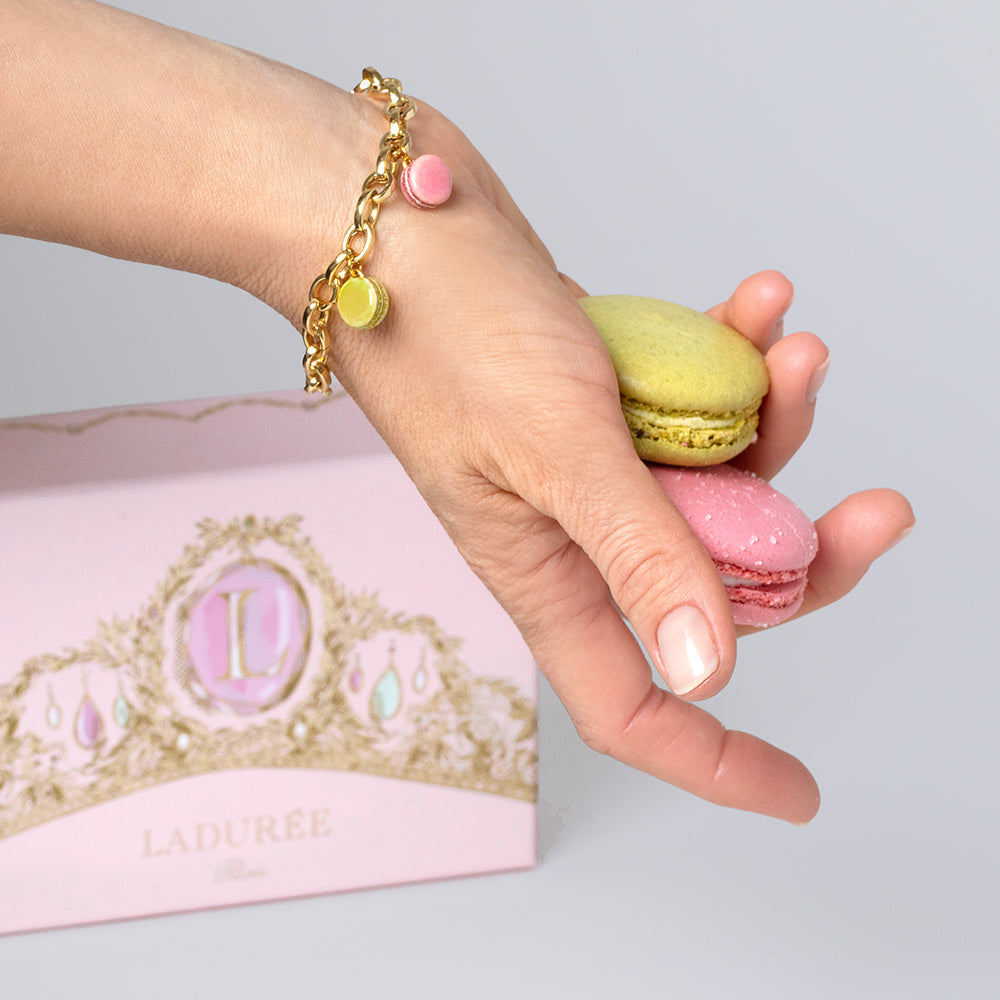 Item Details
Macaron Charm
Hand-painted enamel details
Set in 14k solid yellow gold
Measures approximately 10mm in diameter and 5.5mm tall
Wear & Care
Enamel requires special care to preserve. Avoid contact with extreme temperatures and harsh chemicals that may damage the enamel. To avoid high contact, wear on bracelets is not recommended.
Macaron Gift Box
Eight pistachio and rose iconic macarons from Ladurée
Ingredients
Pistachio : icing sugar : sugar starch, almond, sugar, pasteurized liquid egg white, butter, pistachio, water, pistachio paste without coloring agent: pistachio, sugar syrup, water, aroma, concentrate of turmeric : sucrose syrup, turmeric concentrate, acidifier: citric acid, concentrate of spirulina and apple: spirulina concentrate, apple concentrate, sucrose syrup, maltodextrin, acidifier: citric acid, free range liquid whole egg, egg white powder

Rose: almond, sugar, icing sugar: sugar, starch, pasteurized liquid egg white, milk cream, white chocolate: sugar, cocoa butter, whole milk powder, emulsifier : SOYA lecithin, natural vanilla extract, milk, butter, water, cornstarch, egg white powder, natural food coloring agent carmine syrup : sugar, water, coloring : carmine, maltodextrin, preservative: potassium sorbate, rose essential oil

Allergens
Nut, milk, soy, egg
*All macarons are gluten free
We proudly design all of our jewelry in Williamsburg, Brooklyn. Each solid gold and platinum piece is made here in New York City.
Responsibility
We strive to use 100% responsibly sourced, eco-friendly or recycled gold when possible. Our precious metals are currently cast in New York City by a trusted network of partners whose practices align with our philosophy on responsible jewelry-making and guarantee nimble timelines and fair pricing.
Metals
Overview
Gold is most coveted for its aesthetic qualities and malleability. Its purity is measured in karats: one karat represents 1/24 of the whole, so 24k means 100% pure, naturally yellow gold. 24k gold is too soft for everyday wear, so for our jewelry, we recommend platinum and 14k or 18k gold, which is pure gold mixed with other metals, creating a stronger, more durable alloy. We love working with richly-colored 22k gold for jewelry that does not contain any stones.
We are happy to discuss requests for any desired materials in addition to the metals listed here.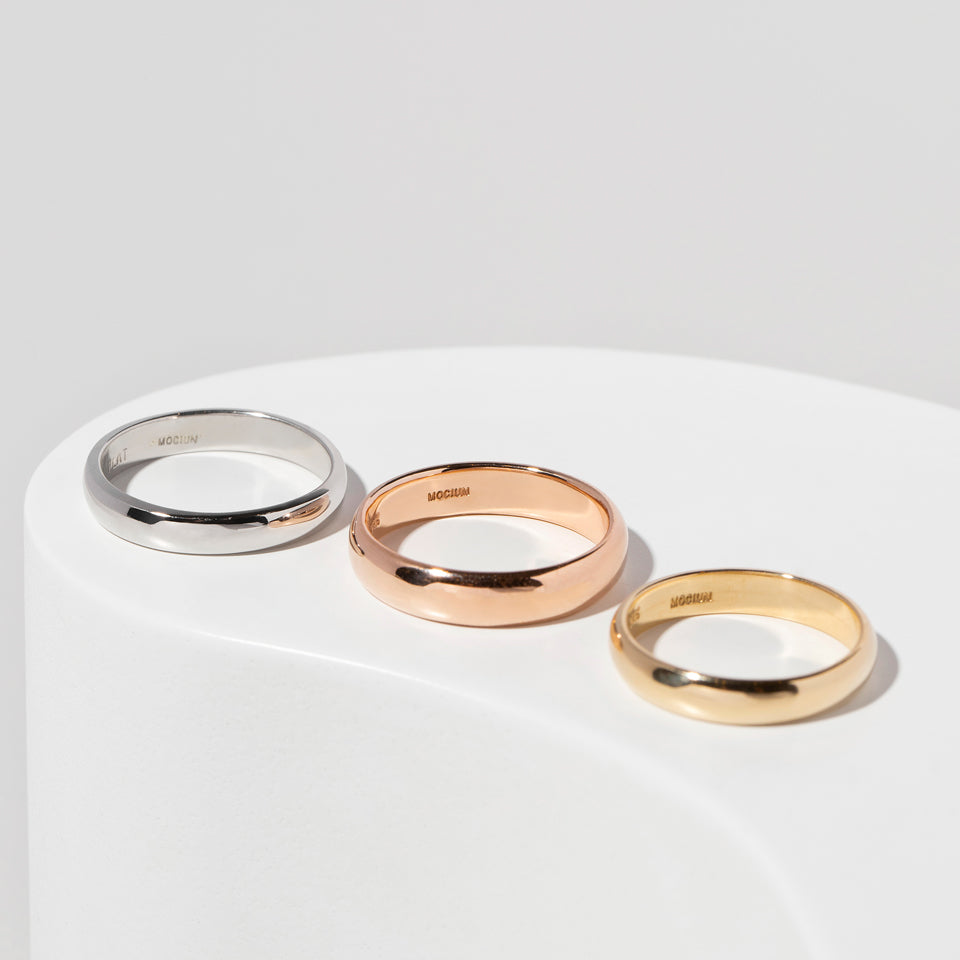 Collapsible content
Yellow Gold

Made of pure gold and alloy metals like copper and zinc, yellow gold is hypoallergenic and easy to maintain. We love using yellow gold with all gemstones and diamonds.
Rose Gold

Rose gold is made of pure gold alloyed with copper, which gives it its reddish tint (perfect for warm-colored and pink gemstones or diamonds) and adds durability. It is not a hypoallergenic metal.
White gold

White gold is an alloy of pure gold and white metals such as nickel, silver and palladium. This metal pairs best with cool-colored gems, as well as colorless to near-colorless diamonds. It is not a hypoallergenic metal and not recommended if you have a nickel sensitivity. Unless requested, we do not rhodium-plate our white gold to honor its naturally yellow undertones.
Platinum

First popularized with Edwardian engagement rings, the rare and extremely durable platinum comes at a higher cost than gold. Platinum has cool, blue undertones and is a pure element. This hypoallergenic metal can be used over white gold for those with nickel sensitivity.